My COVID-19 stuck-at-home experiment was to train exclusively indoors following XATA's phased progression for 120+ days, pre-base to TED. Here are the results.
Background: Older cyclist (septuagenarian next year), enthusiast, don't compete, some chronic health issues.
Failed miserably trying to complete any TR plans starting in 2018; too many DNF intervals or scaling down to 90% or lower to finish sets. A demoralizing experience which I blame on TR's Plan Builder and SS focus which seems more a game of chance IMO or is it a slot machine?


Discovered Xert in late 2018 as I began to sour on TR, but did not subscribe until end of 2019 while running in parallel with TR.
Xert is now the only platform I subscribe to. Does everything I need from workouts to analysis, indoors and out, plus solo/group sessions mean I can watch and listen to what I want during a solo workout or join a public group session and ride "together" at normalized intensity based on signatures. Or I can create a private ride buddy session of my own.
Configuration:
Decay Method: Optimal (periodic BT tests when warned)
Athlete Type: Climber (used to be a decent one but waning now with age/sarcopenia)
Target Event Date: April 4th simply because it was first Sunday in April (Springtime!); Base phase began Dec 5
Improvement Rate: Slow ramp rate to start (pre-base in November) then Moderate-2 for remaining phases. Switched to Maintenance post-event for two weeks; now at Slow (shooting for 4 stars TL by summer).
Workout/ride ratio: 100% indoors
Allocation: 6 days/wk (Mondays off/rest); longer workouts on weekends; no weeks planned in advance
App choice: Xert EBC on Palm or Kingkong Mini 2, plus XO Session Player on Windows 10 2-in-1 laptop in tablet mode running Edge or Chrome browser.
100% of all recommended workouts were completed at 100% difficulty in AUTO mode.
I did fail a couple workouts during the phases but they were not recommended. Both were beyond my reach during group Sessions. Diamond count was higher than my star status, plus they were the interval type I normally avoid due to a chronic health issue.
All workouts were selected from the Load More recommended list of twenty during Base and first half of Build. Then I switched to picking from the top four selections for remainder of Build and Peak. I used Filter on a few occasions to fit duration to schedule (shorter or longer workout).
Since you can bend Xert to your will based on your selections and feedback, I avoided workouts that aggravate a chronic issue that affects my cycling. As a result I reduced my HI minutes, but there were plenty of tough workouts during the latter part of Build into Peak.
For any zone counters out there (I don't bother anymore) here are totals by phase as tabulated by intervals.icu –
Base phase:                       Build phase:                       Peak phase: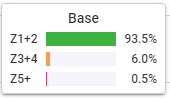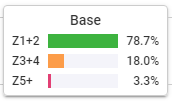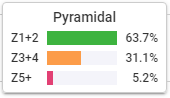 Xert is a hybrid polarized model (3 zones) that fluctuates focus during the phased progression. In my experiment this ended up PYR compared to traditional POL. YMMV based on choices you make during phases and how often you adjust settings such as freshness feedback and ramp rate (IR).
I used Freshness Feedback on occasion during Base, moving the slider to the right when feeling fresher than XATA's calculation. Then back to neutral (0) for remainder of phases since XATA was correct about me being tired during most of Build.

(see Form in XPMC chart below)
One week during Peak my legs were pushed to their limits but recommended endurance rides were sufficient to recover without taking extra rest days.
I selected a BT workout whenever signature got stale and I felt fresh enough. I messed up on the last one though. I meant to select the Ronnestad classic workout as my "target event" after Taper which would have been my first time with that type of workout. When I realized my mistake I didn't go all out as planned so only got a bronze BT with minor boost in TP.
I got around to tackling the Ronnestad a month later during an OPEN group session –
Let's See Some Recent BT's - General - Xert Community Forum (xertonline.com)
One more time: 100% at 100% for 120+ days!
How many TR plan followers can claim anything close to that? Is it possible none do and failure is considered a right of passage? [TR is attempting to "fix that issue" now but I believe their AT approach is flawed.]
I don't see any point risking burn out and DNF intervals following a cookie-cutter calendar plan from any source. I've gotten much better results with Xert's flexible training approach and signature based workouts. No calendar entries required (or desired) and no failed workouts. Completing workouts at 100% regardless how tough they are is a distinct benefit of Xert. See: POLL: How often do you complete XATA recommended indoor workouts at 100%? - General - Xert Community Forum (xertonline.com)
Here are my Progression trendline charts (XPMC, Stress, Strain) from beginning of this year until now (Base began Dec 5) --.
XPMC: Below you can see my mostly Fresh form (blue) during Base moving to Tired (yellow) during Build along with TL and FS progression from BT events.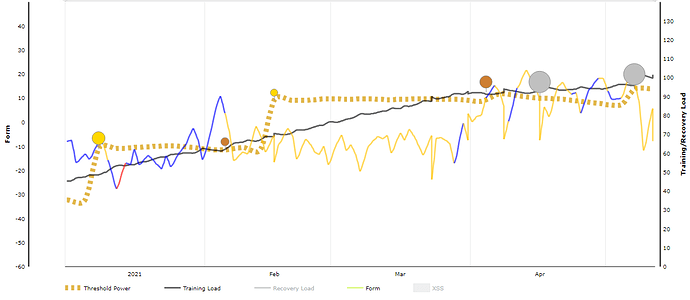 Stress: Below you can see the Moderate-2 ramp rate in effect followed by Maintenance (leveling off post-event) then resuming at Slow rate.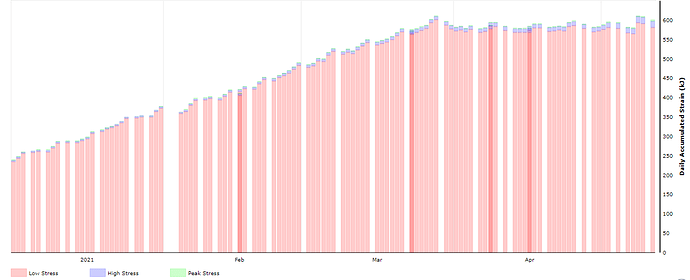 Strain: Below you can see my strain mix and focus evolving through the phases. Note recent tall entry at right (first long outdoor ride, 68 miles no problem

).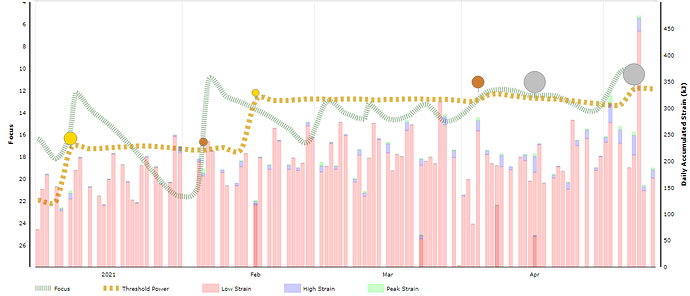 Conclusion: Xert is the elastic-fantastic way to train by power.
Now that I'm venturing outdoors I have a higher TP/LTP than any other year since a health incident lowered my capabilities over a decade ago. I've gotten halfway back which is fine by me at my age. I'm an enthusiast rider more interested in getting fit, not fast although obviously the two go hand in hand. I'm just not going to head out and hammer for no good reason.

YMMV
Xert IS NOT hard to learn but it takes time and a commitment to try something new and different without letting old-school bias and dogma get in the way.
My experiment is just one example of how you can use Xert. In my case it shows how their methodology worked for an aging cyclist without any special "senior plan". A Moderate-2 ramp rate with one rest day per week kept me moving through the phases without wearing me down. I could have taken extra rest days and gone blue (fresh) more often. That would have triggered higher intensity workouts, but I was content with the progress and training load intensity. The results speak for themselves.
Any questions?

References:
Program Phases – Xert (baronbiosys.com)
Training Status and Form – Xert (baronbiosys.com)
Beginner's Guide: Improvement Rate – Xert (baronbiosys.com)
Are Your Workouts Too Hard? – Xert (baronbiosys.com)
Training with the Xert Adaptive Training Advisor – Xert (baronbiosys.com)
Freshness Feedback – Xert (baronbiosys.com)
Starter Guide: Xert Sessions – Xert (baronbiosys.com)
How to Create Group Sessions – Xert (baronbiosys.com)