Hi Everyone! You'll now find that Xert can/will recommend Virtual (indoor) activities, as well as outdoor rides as part of your XATA recommendations, on top of structured Workouts & Sessions! You'll see that the outdoor & virtual rides are recommended based on their training suitability, as well as your trainings status, Focus, XSS surplus/deficit, etc.
You'll be able to view recommended activities by type (Workouts, Sessions, Outdoor, & Virtual) from the Training tab: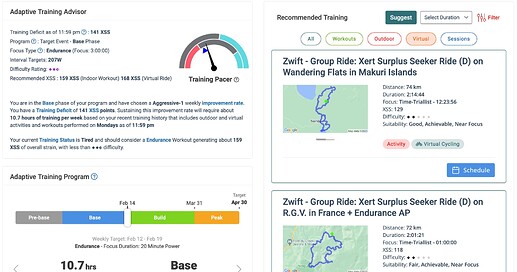 This means that you can improve your fitness and reach your training goals without committing only to structured workouts/intervals! Those that do most of their training outdoors or virtually will likely find this a handy new feature - identify which routes or virtual rides are a complementary part of your training!
We're very excited about this innovate new feature - no other training platform can analyze your unstructured activities in the way that Xert can, let alone recommend them as part of your training program!
Hope you can check it out for yourselves!