Introduction
Back in my pre-grad school days (2018 or so), I was training hard and challenged myself to achieve a Threshold Power of 300 W, which was a big achievement for myself at the time. At a relatively light 67 kilograms, this gave me a relative threshold of 4.47 Watts per Kilogram - not too shabby!
However, after a few years of lower fitness due to less consistent training (grad school & life changes), I have recommitted myself to reaching those levels of fitness once again. In this thread, I was hoping to showcase some neat ways that you can use the platform, as well as demonstrating a bit of how I use the software - hoping you all find it helpful & interesting!!
Analyzing My Previous Performance
To understand what it takes to get back to my previous peak-level fitness, it's important to understand what it took to get there in the first place… let's look back at my XPMC:

Above you can see my XPMC from the winter/spring 2019 season. In late Febrary, I started 4 weeks of
block-periodized training
, pushing my Training Load (TL) from 75 up to ~90. We can see that during this time, I had multiple Breakthroughs that verified a Threshold Power of 300 W.
From this information, I can reasonably assume that I will need to reach a training load of approximately 90 to reach my previous levels of fitness.
Understanding My Current State of Fitness
Anyone can aspire great things and set high goals, but I think another important aspect to reaching that is having a good understanding for where you're starting from. In general, the higher your goal, the longer it will take to get there - this is why even professional athletes know that training to win the Tour takes years of preparations.
One (of many) aspects that sets Xert apart from other platforms encompasses this idea of training relative to your current state of fitness. Many other programs allow the user to select the number of hours that they'd like to train, but beyond that, they treat every athlete the same. Each athlete is assigned the same workouts on the same days - e.g. a 'cookie cutter' approach. Without understanding where the athlete's current fitness is, it's possible that these training programs are either too hard - leading to potential burnout or injury - or too easy - meaning that the athlete may actually lose fitness by following the training program!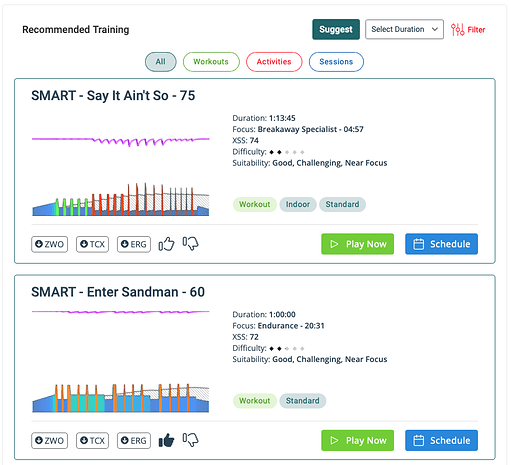 The key difference with Xert is that each athlete needs to (should) be training relative to their current training load! Therefore an athlete with a 1.5 star Training Load (~35 TL) will receive different training recommendations than an athlete with 3 star Training Load (75 TL).
Personally, I am beginning my winter training with just under 2 Star status, with 40 Training Load. From here, we can start to make predictions on when I will reach a TL of 90. With it being the winter season, I plan on making a slow, but steady, increase in my TL using a Moderate - 2 Improvement Rate (IR), which equates to an increase of 2 TL per week. From here, some simple algebra can be used…
90 TL - 40 TL = 50 TL needed to reach goal
50 TL / 2 TL/week = 25 weeks needed to reach goal at Moderate - 2 TL
My goal is 90 Training Load and I'm starting from 40, so I need to increase my TL by 50. Assuming an average Improvement Rate of +2 TL/week, that will take me 25 weeks (50 TL / 2 TL per week = 25 weeks). With it being early December now, I should reach a TL of 90 by late May - actually pretty great timing, since that will correspond roughly with the return of outdoor riding! Adding in just a few weeks of Extreme - 1 Improvement Rate (+3 TL per week) would help me reach my target of 300 W Threshold maybe a week or two sooner.
Next, let's look at how I have my training set up…
Selecting a Program & Athlete Type
For my 2023 calendar, I am hoping to compete in the Paris to Ancaster (P2A) gravel race, as well as complete an everesting attempt. In order to be competitive at P2A, I will be using a Breakaway Specialist Athlete Type so I will be prepared for some of the short, hard, punchy efforts that are a part of the course.
By inputting Paris to Ancaster as my Target Event (29 April), I can see that I will still be in pre-base phase for the next month or so, until the end of December when the 120 day Training Program will begin:

Weekly Schedule
For the next month while I'm in Pre-Base, I will start getting into a weekly routine - this includes a mix of Xert Group sessions, an Xert Surplus Seekers Zwift Group Ride, and solo rides. Here is the general layout for my weekly training, with occasional flexibility based on regular life & my morning HRV readings

Monday: High-Intensity (Climber Focus)
Tuesday: "Fat Burning Tuesday" - Low Intensity
Wednesday: Xert Surplus Seekers Zwift Group Ride (Moderate Endurance Rating)
Thursday: High-Intensity (Climber Focus)
Friday: Low Intensity
Saturday: Longer, low-intensity Endurance
Sunday: Rest Day
For my low-intensity days, I typically stick to 2-diamond endurance workouts or just free-ride around 70-90% of LTP while watching Netflix or listening to podcasts. And (at least for the next couple of months) I plan to keep the Focus of my bi-weekly High Intensity Training relatively longer, such as Climber (10:00 Focus). On that note, SMART - Enter Sandman is one of my favorites!
As I begin my TED program in January, I will start following the weekly Focus recommendations for my High Intensity Rides from XATA as it guides me towards my P2A race in April.
Hope this is a helpful start to the thread - I plan to keep updating as we progress through the winter months. We'll see how accurate my calculations end up being!