Hello everyone!
So I have had a very intense training block when I first started cycling and using Xert (August 2022) and saw some quite astonishing improvement. Going up from originally 150W TP (I was a couch potato before) to 256W TP by the end of November.
Then December hit. I kept training but dialled my training goal back a little bit, because I was just struggling to keep up with all the workouts and also wanted to focus more on Zone 2 work and less high intensity stuff, because my legs were quite sore non stop. Switching back and forth between the slow and moderate 1 goal I was able to keep up with my XSS with mostly zone 2 work and the occasional higher intensity stuff thrown in.
Now after a month of training like that something very weird has happened and I'm not quite sure, if that's an effect of my training or simply Xert still dialling in my fitness signature.
Take a look at the following stats: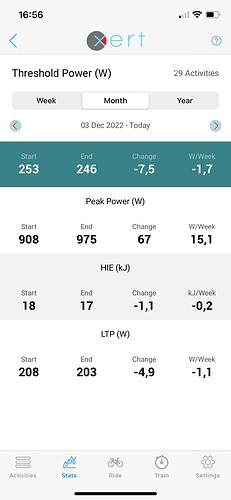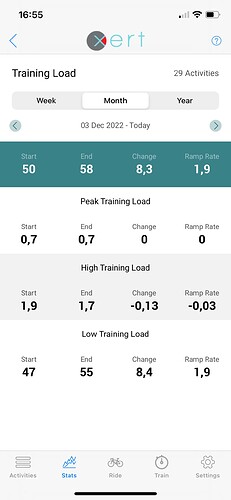 Even though my high training load actually decreased and I really didn't focus on any high intensity stuff my sprint power went up and my TP kept going down and to be honest, I feel like I wouldn't ever be able to hold those kinds of numbers for any amount of time.
So what gives?
I'm pretty confident in the peak power value. MAYBE I could hit 1000W outdoors if all the stars aligned and I didn't screw up the sprint with my technique. I know that I was able to do 4,4 W/kg over 4 minutes a month ago, because I physically did that. I also went for a BT today which ended up being a near BT (though this might be a psychological failure. I probably could have pushed on for 5 more seconds or so). So my fitness signature should also be up to date.
When you put my values into the Xert magic formula HIE*1000/(PP-TP) you get a value of 23,425 which indicates, that I am outside of the normal range. Since I am quite confident in my PP though, either my HIE or my TP seem to be too low. Both of which I feel like are actually too high…

So what do you think?
Did I have a bad approach to my training, or is it really Xert still trying to find the right fitness signature for me?
Thanks for your help everyone!