Hello, thank you for your modification

about planner settings
I have found another issue within the planner, since the update.
I am not sure if i should be posting these things in this thread, or sending a direct message to support?
I figure if I post it here, other people with a similar issue might mention they are seeing the same behaviour - which might be helpful?
Let me know if sending direct to support would be the preferred option.
Anyway - I have just added a workout to my plan for today; a workout I want to do this evening.

I also wanted to plan something in for Friday morning. When I click on Friday's "+" button in the planner to choose a workout, the 'recommended training' field is blank.
I have tried closing this window, clicking 'refresh' in the browser window, but it makes no difference. I get a spinning wheel and the information "recalculating advice" but it remains blank.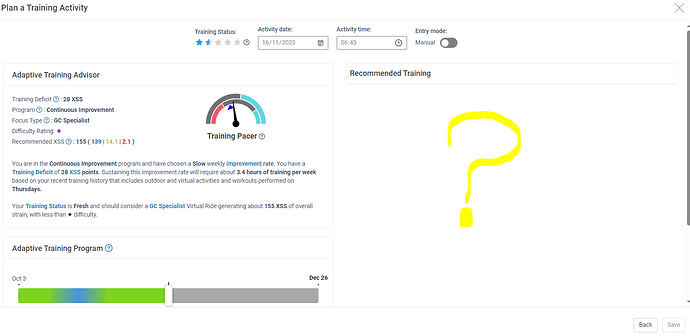 I had this same issue last night (Monday), when trying to plan this evening's (Tuesday's) workout - blank Recommended Training field. I ended up giving up & trying again this morning. So, now I have managed to load a workout for today as you can see in my first image, but I cannot add anything for Friday. Not a big deal, as I can perhaps try again tomorrow. But, this seems like a bug to me.
Xert should show the same workout options in this screen as you will have available under "Home" → "Training". Currently, you cannot:
plan a "Autogen" workout in the future
change the recommendations with filters
select a (previous) outdoor or virtual activity to replicate – or a session.
If you're finding bugs, kindly report them to support@xertonline.com with details of how to replicate it so we can track and fix them. Thanks.
Grazie Armando,
I will send this one to support too but when I discover something I am also curious to see if others are also seeing the same or I am just being dumb


In the planner, where is the option gone to add an arbitrary XSS to an activity? This was very useful for those activities where power could not be used for any reason.
Mozilla Firefox 111
Windows 10
Reported issue that will be resolved soon.
Understand but I think you'd get valuable user feedback even by sharing prototypes or screenshots. I would expect that amongst the user base there are some with real UX skills, so you get that input for free. For example with the planner someone would have probably pointed out that you don't need to show 60 buttons per month (sorry couldn't resist). BTW I don't think it's necessary to keep this stuff super-secret - the competition really isn't that fast!
The next update will be a closed beta and we'd love for you to be on that and provide us your feedback.
My biggest complaint with Xert continues to be its non-intuitive design and interface. I find it very clunky and non-intuitive. I think you all need to do some UI/UX research especially with first time users because it's hard to understand Xert. It's a very busy piece of software visually. It is a very technical app. (This is coming from someone who has done software evaluation, implementation, and training for hundreds of end users at work).
One example of confusing UI is this: To me "Play Now" means open the workout player, but on mobile it selects the workout. Perhaps it should be "Select Workout" since in the Xert app it says "Selected"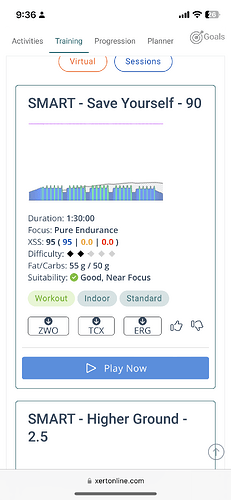 IF you don't see a 7-day week displayed when you view the Planner on an iPad, try these steps.
Rotate tablet to landscape mode.
Collapse sidebar menu by tapping hamburger menu.
If Step 1 and 2 do not resolve issue, decrease text size by tapping aA to left of url box.
Optional: Change default page zoom to 85% under iPad Settings, Safari, Page Zoom.
Chrome on iPad –
Rotate tablet to landscape mode.
Collapse sidebar menu by tapping hamburger menu.
If Step 1 and 2 do not resolve issue, decrease text size by tapping … in upper right and select Zoom Text.
Optional: Configure flags option to enable auto-sizing of text zoom.
Not exactly straightforward then eh?
Due to habit some will forget to try Step 1 first (rotate to landscape).
If that doesn't work, Step 2 and 3 will.
If rotation is locked they may need further assistance.


How to Rotate the iPad Screen and Enable/Disable Auto-Rotate - TechPlip
Are notes on Activities (in the dashboard) different from the notes that can be added from the Planner page? Is the intention that one is for completed activities and the other set of notes is for planned activities?
Seems to me Notes is a Planner function only with the entry tied to that date on the calendar.
Use it for whatever you want whether related to a planned or past activity or simply a reminder on the calendar.
Yeah, I guess that's the disconnect for me. I don't see why that necessitates having notes for Activities and on the Planner. You said 'related to a … past activity', which I agree would make sense to edit from Planner or from the Activity, but I can't imagine why I'd want those to be separate.
The Edit button on the planner page now works, but… It seems the Edit button on the activity page still doesn't do anything.
My planner page is now totally blank. There are no historical activities showing at all, even though I cycled 6 days last week for example…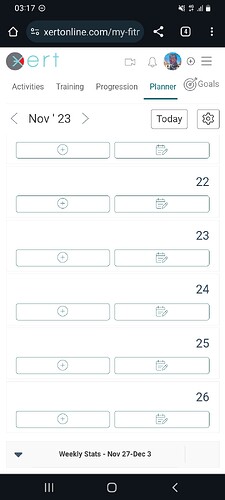 I reported a related topic to support. The tiredness bar (horizontal bar) is shown per activity on mobile, not per day/week as in desktop. So days without activities (typically the future) will not have the bar, while days with two or more activities will have multiple bars.
Strange. I selected and then unselected "hide other profiles" in the planner settings window and they all now show