Fantastic thanks Scott. I'll start using it today.
We're definitely eager to have support for radar in EBC (I have one too I'm excited to use this summer). The Bluetooth spec has not yet been published by Garmin, unfortunately.
We're investigating potential radar support for EBC on HH Karoo 2, still working things out with HH at the moment. But we'll post updates as necessary.
I've just tried xert bec but stopped as my speed from power was showing 30 instead of the usual 18mph or so during warm up. Now that I've quit the workout I'm thinking that it might have been showing kph and not mph. However there doesn't appear to be any way to check or change it to mph.
We can take a look into that. Thanks. It's likely a minor units conversion issue. Thanks
Garmin is not currently allowing access to BLE radar to all developers.
Perhaps that will change in the near future.
In the meantime I plan to add a Varia Display Unit for my RTL510.
I suppose you could run a RTL515 with the Varia app but that would mean switching between EBC and the app. Not sure how well that will work but if someone has a RTL515 let us know.
@ManofSteele covered all the details.

IME EBC has been flawless in recovering from battery depleted issues.
I have been experimenting with my Palm and letting it run out accidently.


Takes about a minute to plug in my power pack, power up, and resume an activity which happens automatically when you select EBC.
One caveat is the activity starts back right away while your sensors may take a few seconds to reconnect in background. If you don't see them reporting numbers just swipe up to return to Activity home screen and tap Continue. You can also glance at the sensor box to confirm which sensors are connected by their associated icons.
With the Palm I activate Wi-Fi (not using a SIM card), start EBC, load a workout, start the workout, then disable Wi-Fi to maximize battery runtime. Then when done I will save the workout, enable Wi-Fi, wait a few seconds while the saved activity syncs in background, then return to Home screen which displays the activity,
I have used EBC on Palm for 3 months now as my only workout device.
Just did a workout using the new app and it went perfectly (apart from showing kilometres instead of miles).
Chapeau to Armando, Scott and Stephen.

Just used it for the first time tonight and I have to say well done. Much better than the old Android app. I've been using the iOS app for a while now and I think this one is better.
A couple of comments though:
I love being able to switch between the whole workout graph view and being zoomed in on a 10 minute section.

I miss being able to see the next interval text under the graph view. I get why you've put it under the dial view but it would be nice to have a small version under the graph like we do on the iOS app.

Any chance of a dark mode - the white hurts my eyes… Well, I just like the look of the iOS app.
Mike
I'd like an option for a black background to save battery
What kind of mount do you use ? My 6.18' phone is perfectly attached, I can even use it on gravel and off-road path without any trouble. But, yeah, I glued a garmin mount on the back cover…
Thanks @ManofSteele
On my Karoo 2 it should be possible to connect to radar using ANT+ so hopefully that can be used.
(Edit: Or maybe I should just wait for the proper integration stuff?)
Great to see Xert always trying to improve and renovate itself. Top!
Feedback: the major issue for me at the moment is the screen settings. I tried lock, no lock, with permission and without permissions but it always revert to default once you change screens. Black mode would also be appreciated.
I couldn't use the app because it burns my eyes.
Any plans to be able to upload gpx files?
Cheeeerios!
Gee I dont know how I missed this sneaky little pre-release! Praying it brings me closer to ditching my garmin for good!

Edit: omg where has this been all my life. Bye bye garmin (and wahoo?), hello android bike computer.
What brand/model phone and OS version?
As a test start EBC, Settings, Display Settings (should dim already), set slider and Auto-Dim as desired, Back, Activity, Start, wait X seconds and screen should dim based on Auto-Dim timeout.
The lock function is to disable tap/hold access to the dim control during an activity.
Normally you can start an activity, tap/hold for dim control, then lock if you don't want access during that activity…
If not working this way I suspect there is an OS setting you need to change. Search for "brightness".
.
The cubot King Kong mini looks good. How are you attaching it to your bike? Is there some sort of wahoo of garmin mount that would work? Indoors I'm currently using my 6" smartphone with quadlock mount but dont see one for the cubot king Kong mini.
I'm using S21 Ultra, android 11, One UI 3.1.
I set the Dim as below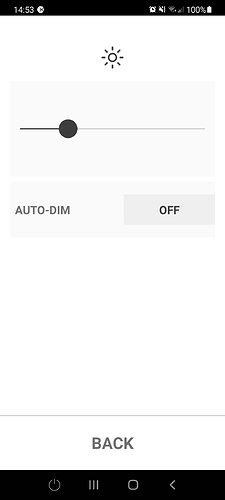 I press back (the brightness cranks up) I go back to the setting and it looks like this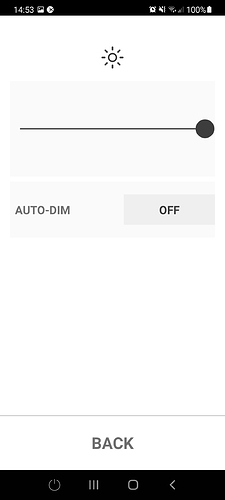 Thanks. From what I've seen of the mini 2 the back surface isnt flat so there might be an issue with adhesion.
I've been using a 3M adhesive on the back of KKM1… no play with it whatsoever. I'll edit post in a bit with a photo.
EDIT-Photo attached now