On my treadmill-run today I used Xert EBC with Stryd on Android in order to execute the Run-Easy 30 workout. I used Stryd as sensor for power, cadence, and speed. Polar H10 as heart rate monitor.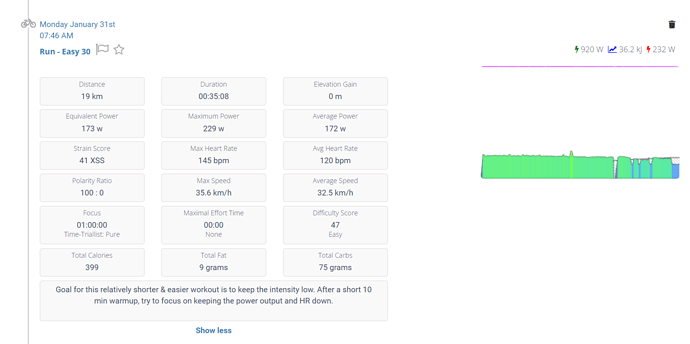 It worked! Xert EBC+Stryd on Android might be a very nice tool for tredmill running!

In activity details, Xert describes it as a "Cycling summary". Can I change it to Running within the Xert ecosystem, say on EBC or Xertonline?

The speed and distance are wrong. According to the Stryd file downloaded from the Stryd-pod I ran 4.47km, mean power 172, mean pace 7:53 min/km. Is this a bug? Can it be or I correct it within Xert ecosystem? (It would be cumbersome to use GoldeCheetah or similar to correct and merge the the Xert+Stryd fit-files).

The workout had a warmup+cooldown at 80% LTP (= 110W for me) and a main set at 100% LTP (=149W). I wonder if this workout prescription is originally a bike-workout copied, but not adapted to, running. For me, a brisk walk is 120W and a very very very slow run around 170W. So, I would describe this as a run-walk-workout in the Workout library. Or should I go all in with XATA and XSS and simply skip speed+distance? I would mentally be difficult and a big leap, as running, and running plans, traditionally are all about speed and mileage .