Hi xertians,
I ran into strange behaviour with xert on my garmin 530.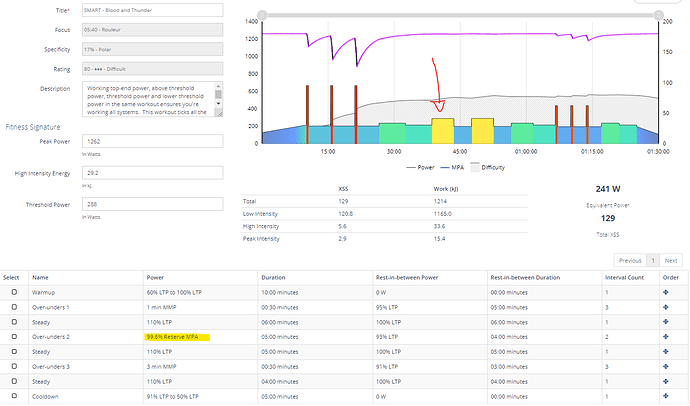 I was riding the SMART - Blood and Thunder workout outside. All seemed to go quite easy, so I was waiting for the yellow blocks to put in some effort. Expected them to be at about TP. They started out at TP as expected, but then dropped quickly to LTP…
Afterwards I noticed that the power in these blocks is defined as 99,6% reserve MPA. I tried to find some information on what that means but couldn't find any.
I've find something on Reserve MPA in duration though. Xert than calculates the time it would take to bring back MPA to e.g. 60% at a specified amount of power (110% TP) and uses that as duration. If I understand correctly, that duration is than fixed…
So I would think that in this instance, 99,6% reserve MPA refers to the power I have to put in to drop my MPA by 0,4% over 5 minutes. If that value is calculated beforehand, based on my power curve, I would expect that to be constant.
However, it dropped very fast, so it seems to be 'smart'… Can anyone explain why? I might have put more effort in than required for the earlier LTP intervals, could that be the reason?
I've previously had problems with smart intervals outside, but always with the duration. The smart duration time just dropped and a 3min interval was done in 20sec… Frustrating up to the point that I stopped riding xert smart intervals outside as it just didn't work.
So there might be something wrong with my settings as well, which might explain all this.
Thanks for your time and suggestions!
p