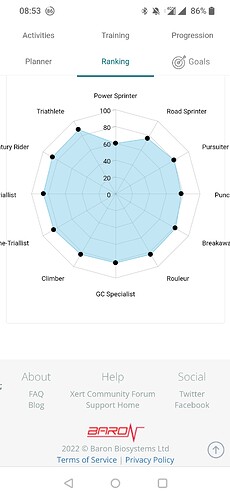 So this is my current Xert profile
Would obviously need to work on short power duration, I am mainly training indoors on Zwift racing twice a week (generally one TTT and one scratch race lasting 40 to 60 minutes) + 1 long outdoor ride in the weekends (with around 1hr climbing over 3/4 hrs total) or long indoor race (3 hrs)
FTP is 3.9 w/kg, weakest power point in the power curve is between 5 secs and 1 min (1 min power is 5,72 w/kg =430 W, weight 75kg)
The thing is, I would like to improve short term power without losing too much in my actual form in longer durations, going towards outdoor IRL season and some outdoor fondos but still racing indoors during the week.
In Zwift racing, I can get to the final sprint in top positions in B races, sometimes even with A racers, but always getting beaten by most of my competitors in that final sprint
I know there are muscle fibers limiters playing here for me, but I am also sure there is something that can be done in training to improve my short term power.
Suggestions?