I am planning on doing the Hotter'n Hell Hundred, in Wichita Falls, TX at the end of August. I have the lofty (maybe impossible for me) goal of doing it in 5 hrs. The event is still a good 6 months away, so I created a fake date for an event 120 days out, to put myself into the base phase, which I plan on extending until the base phase for the real event starts. I have been in an extended base phase since December (ish), using TrainerRoad, with a pretty good dose of their Sweet Spot Intervals (88-94% of FTP). I just started cycling back in July and have had steady improvements so that I can now ride 60 miles at around 18-19 mph with my main riding buddy, who may or may not be trying to kill me.
The August event and goal is important, but I'm not a racer, just mainly want to ride this summer with the local "fast" group and get a little sweet revenge for the butt whooping they put on me last fall

. They usually ride 25-40 miles at 19-20 mph, sometimes a bit faster.
What should my focus be at this point, in order to achieve both, if possible?
Here is my current status: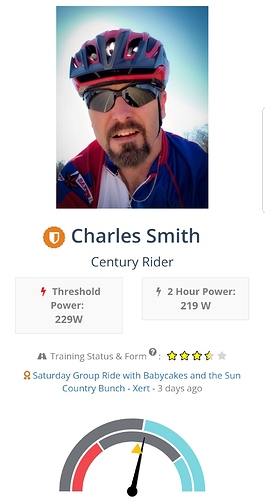 Thanks,
Charles