Hi Community,
I have a weird problem, and I hope you have some answers


My Setup:
Taxc Neo 2T (FW:0.0.38) + Garmin Edge 1040 (FW: 15.23) + Xert Player (most recent from IQ Store).
Power Sensor + HR sensor is paired
Tacx is paired via "Xert Player" - "Select" → ANT+ ID from Tacx
GPS is OFF (on Edge itself AND Xert Player)
Power Match is ON
Since a few sessions, the speed (and therefore distance as well) will not be picked up after ~5-10mins in the trainig.
NOTE: Screenshots are taken from Garmin Connect as one can see the drop-outs more clearly (data is missing in Xert as well - so, no "transfer" problem)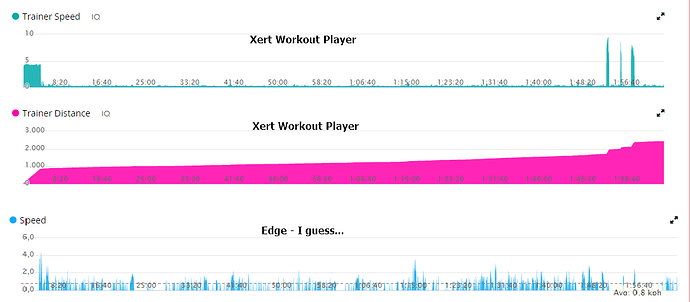 As you can see here: the speed + distance a totally mess and even though the GPS is OFF in either setting, it seems like, the GPS from the device "takes over control" of speed and distance (i even have the Map available - it looks like i go back and forth on the very same place (like no GPS fix)
So, its not like, that the speed is not recorded at all…it only stops after a few minutes.
Crosschecks:
Tacx with Taxc App on both Android and Win10 → works
Tacx with Edge 1040 - Indoor profile (no GPS) → works
Tacx with Fenix 6X - Indoor profile (no GPS) → works
Other tasks:
deleted the IQ App from Edge, reboot Edge (just in case), re-installed IQ App → no luck
removed all sensors (HR and Power), only selected in Xert Player → no luck
Is there anything which i might do wrong?
Anything else i could try?
thank you so much in advance,
Ron
PS:
Edit 1: typos
Edit 2: added the note
Edit 3: did some more testing, this time with Edge GPS enabled / Xert Player GPS OFF → even weirder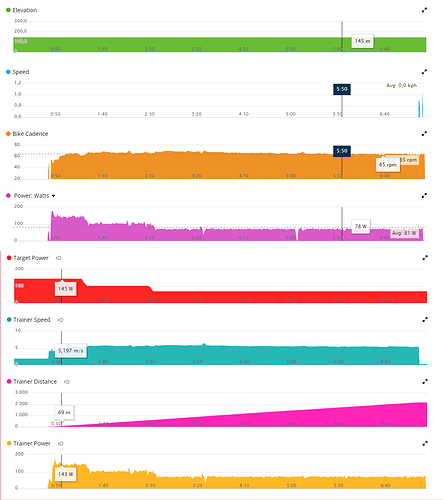 first of all: it starts to record only after ~30s, but again: after ~7mins you can see the speed drop