I'm interested to see your attempts at endurance-focused riding (what some might consider 'Zone 2') on real roads near you with traffic, variable roads, hills, etc.
Obviously the terrain where you live will have a big influence, but what do you find most challenging about outdoor endurance-focused rides?
I can start by sharing one of mine - fortunately I live in an area that is relatively flat with quiet country roads, so I can keep the climbing and coasting to relative minimum. I'm riding a semi-compact crankset with 11-28 cassette in the back that allows me to keep a relatively narrow power range throughout the ride: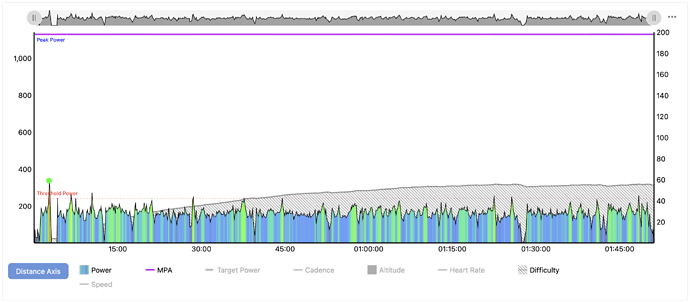 This ride ended up with a Moderate Difficulty rating (56) and a Polar Endurance specificity & focus. Note the small surge above TP at the start is likely the only reason for the polar rating - as you can see, it's mostly an LTP (ish) ride.
I like to use rides like this on days when I'm yellow status to keep building up my Low TL while avoiding the urge to hammer on strata segments or up hills. This helps me feel fresh sooner so I can get back to smashing Segments on my harder rides

I am curious to see what others share! I hope it's a helpful thread. Cheers!