Yesterday I did a blood lactate test and then a VO2 max test and got the numbers I expected but I was disapointed but not surprised that Xert did not reflect much closer to breakthrough effort than it did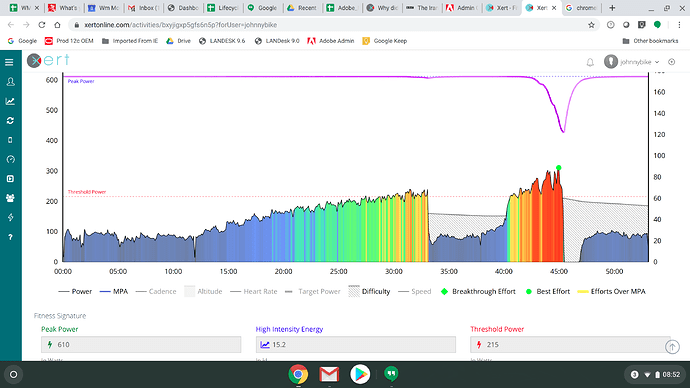 My FTP was 212 with Xert thinking it was 218-220. I expected that if I took a 20' test I would be just over 220-225.
LT2 was between 220-230 and interestingly that corresponded with a HR of 138. I always know that when I hit 138 I am working at a close to threshold effort.
Whilst I did the best I could on the VO2 test I know I should have done more as I only got to 154 HR when I can achieve 159 (and have done fairly recently). However I do very little training at that level of intensity and do not ride outside that much.
So overall the numbers were accurate and if I look at the diagram I think that reflects the truth. If I had been able to push for a bit more - say another 20w for 1 minute I might well have seen MPA drop and my effort meet it.
So no complaints about Xert, just a recognition that I shoudl be able to do more.