I've read a bunch of the forum posts on Decay, and I get the reasons why someone might change it. So far, I've just left it at the default "Optimal" because well, I'm still a total noob at Xert and am learning. Anyhow, I didn't really find a good discussion on the question I have here and haven't experienced it myself yet so thought I'd bring it up.
Here is what my Xert progression chart looks like for the last couple weeks. It's made up of 100% Xert recommended activities with some zwift races mixed in and a couple outdoor rides (no power but HR estimated XSS). My TP is constantly going down unless I got a Breakthrough.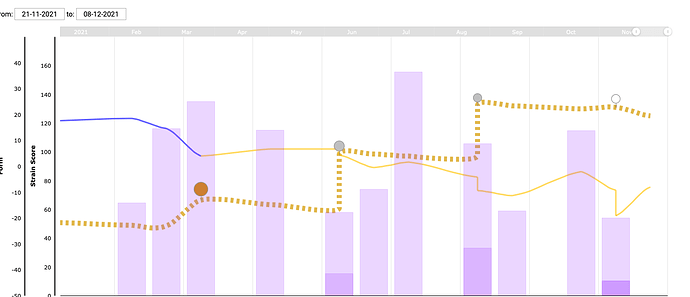 My increase in TP has occurred when doing Zwift races. I think coming in to using Xert, the default Decay obviously had me quite a bit lower than real TP since these 1st several breakthroughs actually weren't that hard to achieve. By the 4rth race, It looks like it's starting to get more in the ballpark. I only got a near breakthrough though because that was the sprint to the finish line and perhaps I could have gone harder for a bit longer if I hadn't stopped pushing when I finished the race. Also, these are my first zwift races for the season and I've been doing off season/rest since August. My last detected breakthroughs (from before I started using Xert) were back in July.
So two questions:
Is the fact that my estimated TP was 40 or more watts below where it seems like I actually am evidence that I should change the default decay rate?
There seems to be conflict between Xerts recommended workouts for my current phase of training (base) and the zwift racing. Racing puts my status to Tired instead of Fresh, then recommended workouts are lower intensity and TP goes down (I'm assuming due to my selected decay rate). I haven't actually done this in real life yet, but I used the planner to map out several weeks of suggested activities on the days I usually ride. I did see that status goes back to blue and TP slowly starts increasing. Does this sound right? I guess the question is, if I'm doing Zwift races it seems like the only time my TP will go up is when I get a breakthrough. Maybe Xert is hinting that Zwift races aren't really base training??
I set a target event date for Feb (real race) so I'm in base for another week or so then build phase starts. I'm just looking for feedback if I'm doing it right