Hi serious cyclists!

Train + (too?) Hard = lower FTP
Train + Rest = higher FTP
Of course you guys knew all of this but I did not. I heard/read it, but I didn't perceive it.
Inspired by Manofsteele's return to 300 FTP this winter I am devoted training XERT event based goal in March 2023. This year I once reached 285 Watts but dropped to 245 and now I want to reach 300 Watts too (obvious no way near W/kg of the Steele

). I'm strugling training hard but coping with fatigue. Grateful with the Steele's insight of the necessity of building training load, I tried to build it. But I have to acknowledge at age 47 I cannot get the load as high as I wanted.
So, I took XERT progression chart to analyse how I did reach 285 Watts easily. And I tried to figure out what caused FTP to drop.
The conclusion is counter intuitive. Having a dense training load drops my FTP while having a breathable but serious load works very well for me.
I watched a recent GCN YT that covers this and it's so simple. I want to train hard every day but I need to breath. For me it works well to alternate training dag / rest day.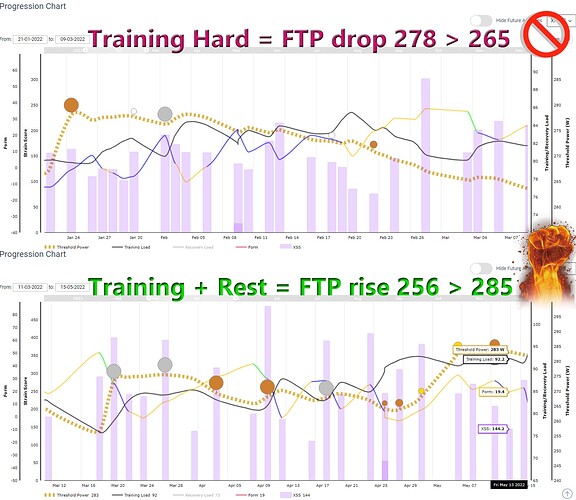 Of course it's less black and white. But I'm motivated (and accepting!) to only train every other day.
Of course one can state I should alter training intensity. But have tried this.