Mount Regan is a TrainerRoad workout consisting of 4 x 8 minute intervals at FTP separated by six minute recoveries at 50% FTP. It is clearly a run-of-the-mill FTP workout, albeit with shorter than typical intervals. Here is the Xert chart for Mount Regan: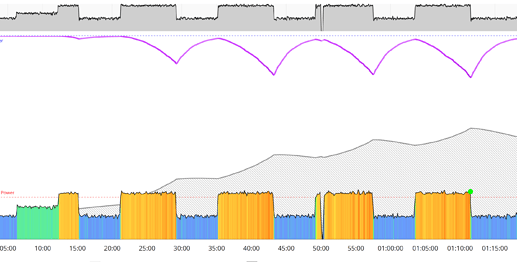 Now, Xert labels this as a difficult pure endurance ride. But not only is it not an endurance ride, my TrainerRoad FTP is 20 watts higher than my Xert TP so by Xert metrics these intervals are twenty watts north of TP.
Likewise, TrainerRoad FTP is about 10 watts higher than my Intervals.icu eFTP, so Intervals.icu actually considers this a polarized VO2 max session. Both TrainerRoad FTP and Intervals eFTP are automatically detected. Here is the Zone graph from intervals:

This is a hard workout. It's not endurance paced. It is 32 minutes at FTP. I realize there is a lot of recovery here, but why does Xert consider this a "pure endurance ride" when it's clearly polar and clearly not a base ride?