I wonder if someone can help me with a query I have this morning…
The Adaptive Training Advisor is showing that I'm in the "Build" phase and it says my "Interval Targets" are 221w, my training is Fresh and according to the "Planner" I was yellow on Monday and have been Blue Tue, Wed, and Today. Yet I'm being recommended "Endurance" workouts with workout intervals of 124w and 149w which give an overall avg watts of 133w.
Why is this so far below the Interval Targets watts of 221w?
I'm getting a bit confused by the daily recommendations of XATA.
Maybe I need to make some changes somewhere to my settings?
I'm a "Climber" and on a "Moderate -1" improvement rate. My "Freshness Feedback" is set at 0.
I've been playing around with the freshness feedback slider for the last 20 minutes and just happened to set it to 10 and set the filters to workouts of up to 1 hour duration. The recommended workouts look a bit more like it now, but there's now 3 "Smart Taxman" workouts showing as the 4 reccmmended workouts???
Why would it be showing me 3 of the same workouts?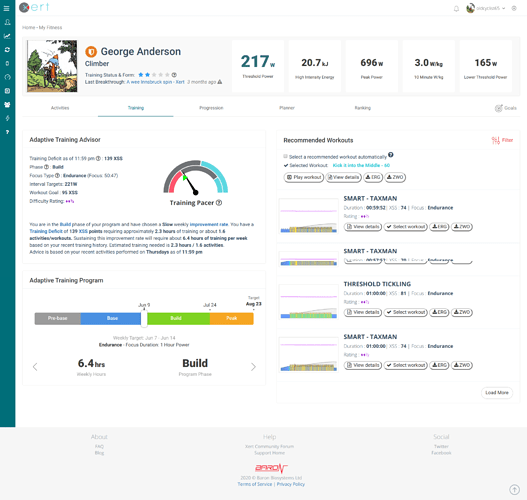 Thanks