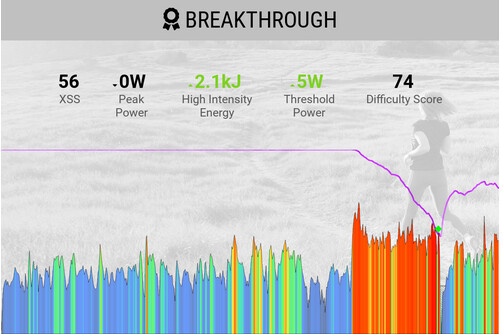 Silver BT using a targetted segment on Fulgaz. Definitely more to come using the process I documented below.
Posted on FB already, but I'm proud of this because normally I find long effort BTs impossible on Xert, normally use intervals. Workout objective was 2x20min climbs at 90%, 2nd climb I started to push and POW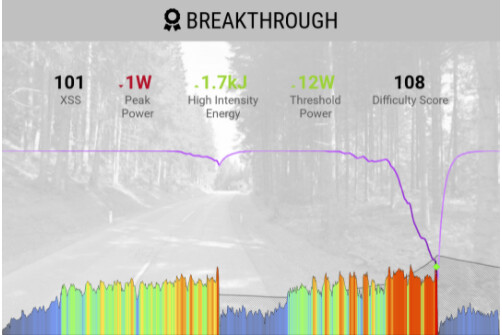 I did the Xert Fitness Test for Breakthrough Version 3 workout to set my signature on the indoor trainer. On the final 5 minute interval where I hit my breakthrough I was hurting but could have kept going. Had the interval been longer would this have theoretically resulted in a higher TP, HIE or both?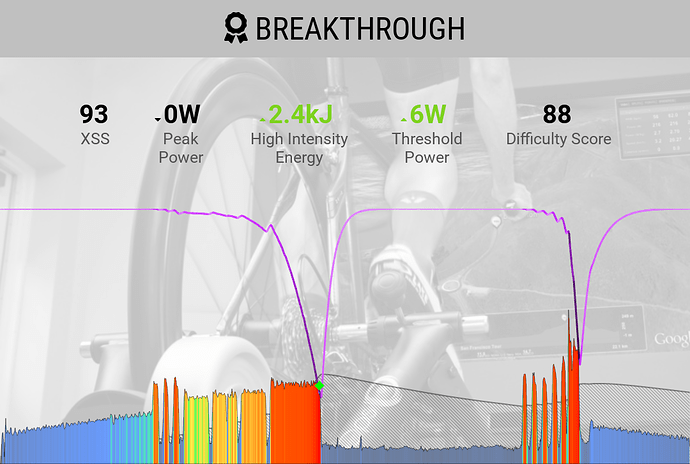 Yes, but the sig differences could be minor.
Normally you should have failed during that 5 minute interval.
Even though this particular workout is designed for trainer control you can run it in Slope mode next time to ensure you max out. Or select another BT workout to ride in Slope mode and expect to fail at some point.

To see how much time your MPA was flatlined view the Advanced MPA tab for the activity and click Previous button.
I got the impression from the description I wasn't supposed to be able to complete that interval. Had I reached a point I couldn't push the pedals any longer what am I supposed to do? Just skip to the next interval?
Looks like my MPA was flat for about 2 minutes of that interval (and some after it?).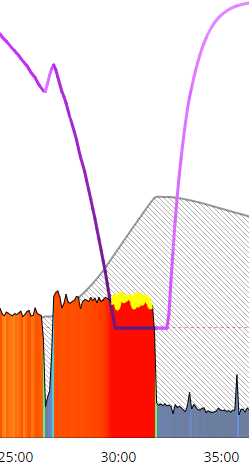 With most trainers you would simply backpedal until the next transition. That lowers the resistance so you aren't stuck at same level when you start pedaling again.
You can also use this trick in the middle of a failed high watt interval that you want to jump back in on. Otherwise restarting may be impossible.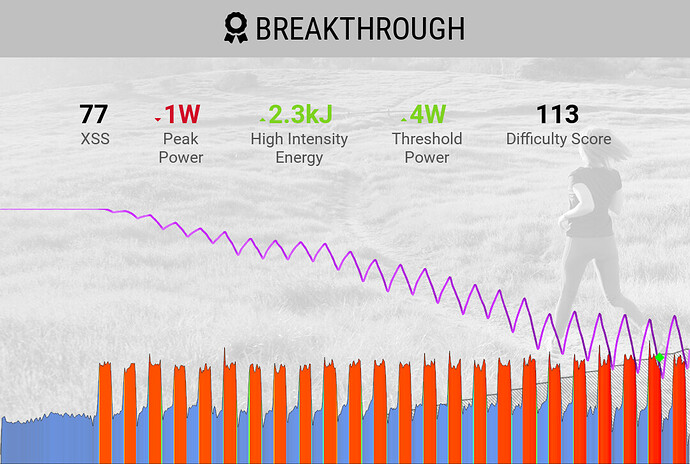 On today's menu was a quick breakthrough workout 30 sec on 30 sec off. Felt great, I could have done a few more intervals but wanted to spare my legs for tomorrow. Was a bit gutted i didn't get a bigger breakthrough as the garmin app signaled i got the breakthrough about 4 to 5 intervals from the last. Either way I'm just glad i hit the mark with relative ease, training is paying off.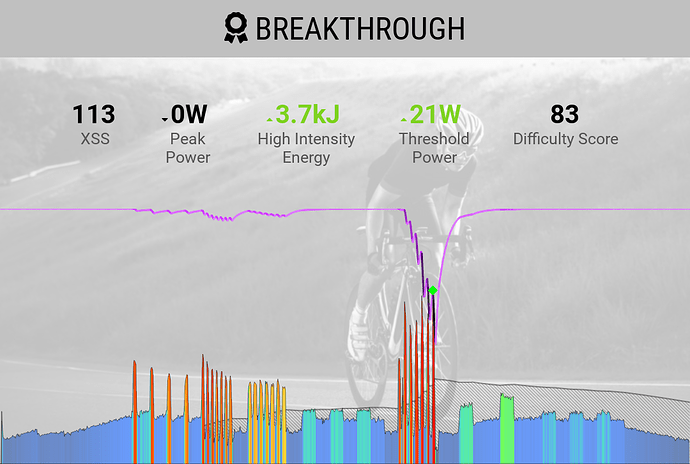 I am in off-season and only riding 3 days a week comprised of easy and hard workouts indoors and a long ride outdoors on weekends (weather permitting).
This was my designated hard workout for the week. I used the opportunity to join a group session (Weekly MG group Ride) which was labeled Good for Suitability.
I knew my sig was probably low since since Decay is set to Optimal and I'm not riding that much. I could tell right away the reds were a bit too easy so I switched to Slope mode for the last set of reds and exceeded targets by a wide margin to force the BT.

Main thing I want to point out is you can use most any HI workout to generate a BT by slipping into Slope mode and going for it when you feel up to the challenge.
Plus group sessions provide an extra incentive regardless of your star status and capabilities. They aren't a race but the group environment makes a difference. You can monitor whatever leaderboard stat you want. I like to watch RPM and see who's spinning the most. YMMV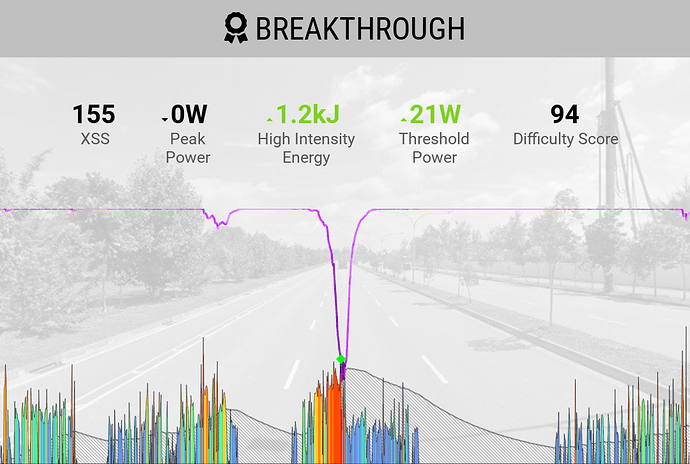 Breakthrough as above. Did it with outdoor group ride with a few friends on 4th Dec, upon a certain stretch, chasing a few cyclists at the front till a moment with just a few bike length, should have continue to keeps pushing as i do find am still have energy left but slow down as friend drafting me slowly get drops. Here is the previous activities below.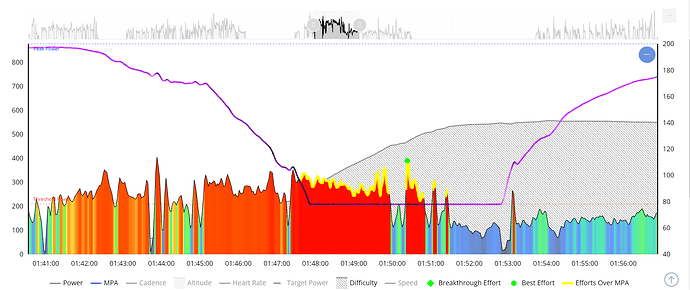 Here is another breakthrough on 11th Dec as below with another group of friends, closing down a cyclist in front and overtake each other, but more harder as not much energy left after breakthrough.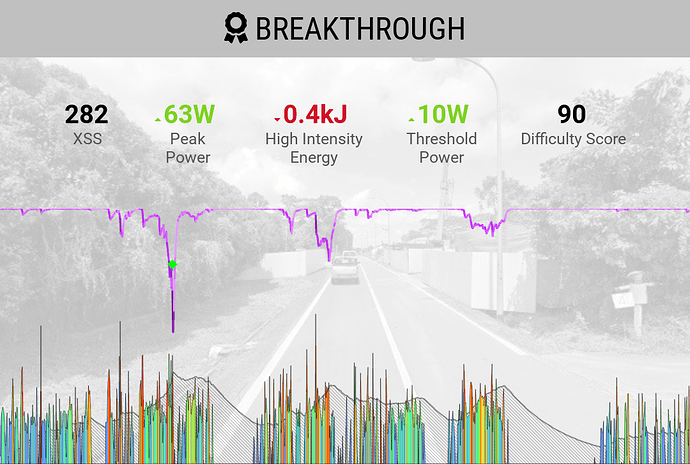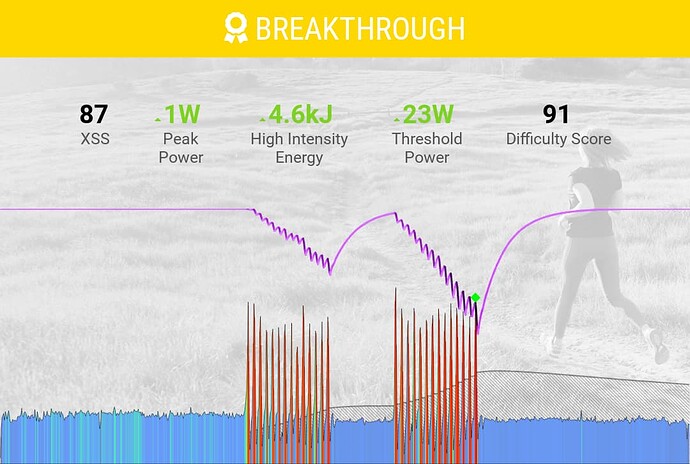 I'm a triathlete in my offseason. I started following Garmin's "Suggested Workouts" for both biking and running about two weeks ago just to see how it works. So far I like it. It has been a good mix with a lot of endurance, several sprints and one threshold workout. Last Saturday I had another breakthrough on the only "Suggested Workout" threshold ride.
Here's that other breakthrough. I had to backpedal a few times. 2 x 15 over threshold was a very brutal "Suggested Workout".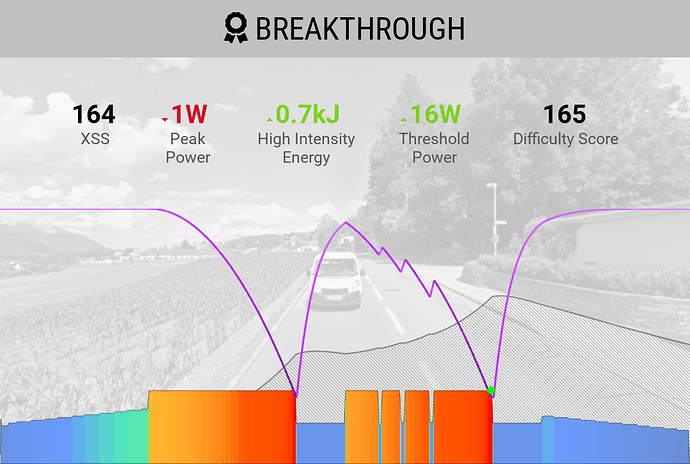 Here's a recent long run workout breakthrough. One of my favourite routes, out and back, the turning point is at the top of the hill where I got the breakthrough.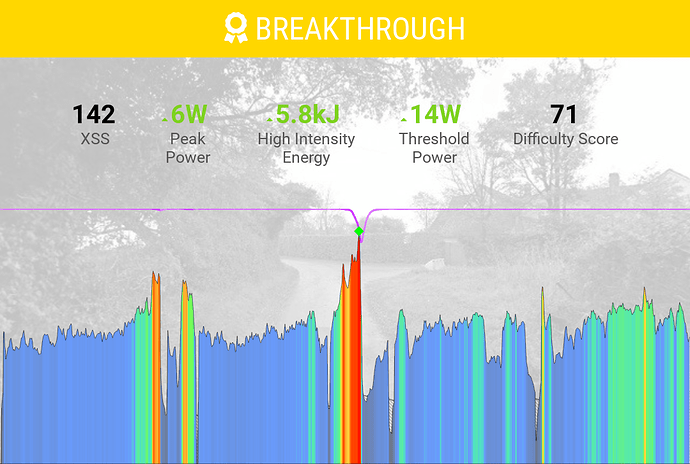 Here are a few breakthroughs from my last 3 Zwift races (within the past 2 weeks). For me a race always equals a breakthrough.
The first one is from a TT, which I won, and improved much of my all-time power curve, and even then I knew I could've gone harder. But hey, it's winter.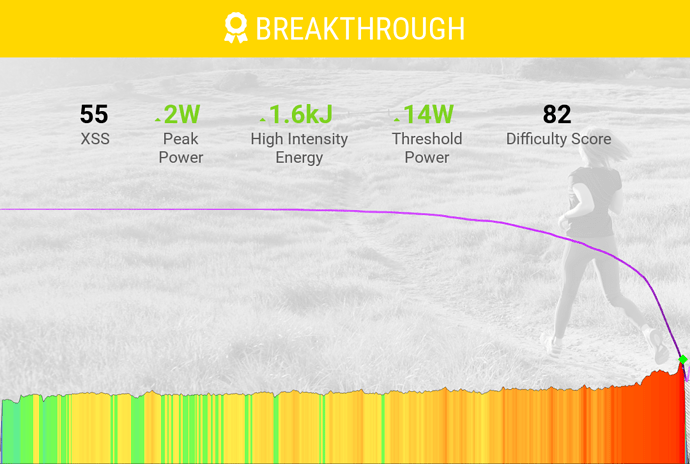 Then an otherwise uneventful group race with a sprint at the end, narrowly missing the podium: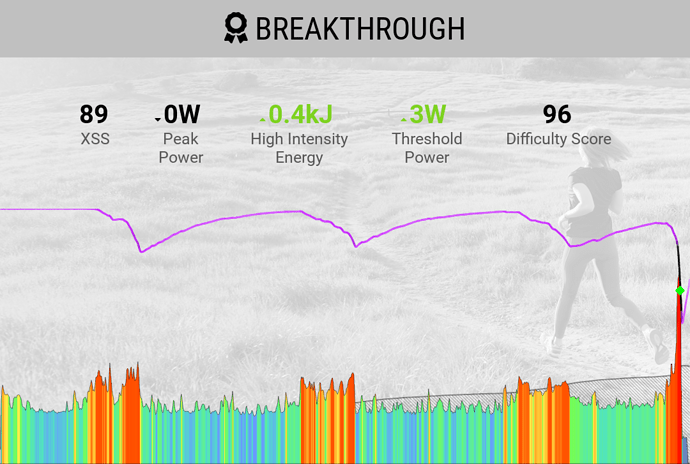 And finally a hard race, where I got dropped from the front group just a few minutes into the race. I took it too easy in the beginning as I hadn't warmed up properly and then didn't react quickly enough to the surge on an uphill. It's also much more difficult to judge the pace in Zwift than in the real world.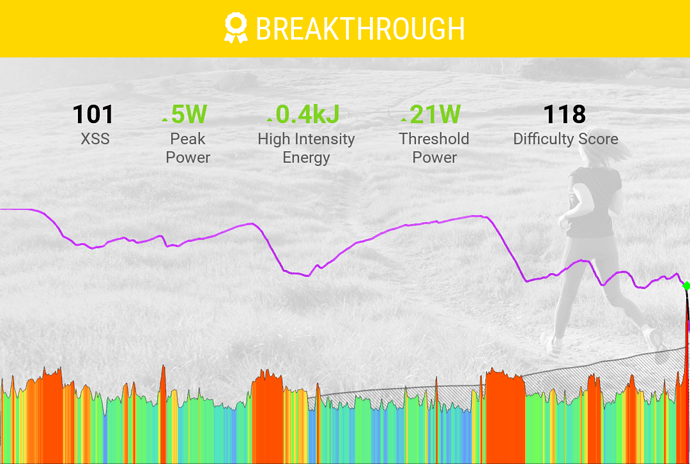 'Near Breakthrough'.
Obviously I broke Xert. I don't do nears.

On a more positive note, I finally got my heart rate broadcasting from my Apple Watch onto Xert EBC iOS.
No more, "ohh, ahh's, that's cold" at 5am from the heart rate monitor strap.
Works flawlessly, zero dropouts.
Heart rate is broadcasting in both ANT+ & BLE.

Happy Christmas to all the Xert team, and here's to many more BTs in 2022.
Stay safe.
How often should one go for a breakthrough? At least every week? Two weeks? Month?