I have seen it again and again since using Xert, but it was never as obvious as this time: The predicted maximal power from the power-duration model of a given fitness signature is lower than the power you need to arrive at that signature.
For example, today I did a 1 minute max effort of 657W, which was a significant PB but still dragged down my HIE (which was more derived from 3-5min efforts). In the screenshot below you can see the MPA analysis, where I have already adjusted the HIE back up slightly (from 20.4 or so to 21kJ, still lower than my typical in-season value of ~23kJ):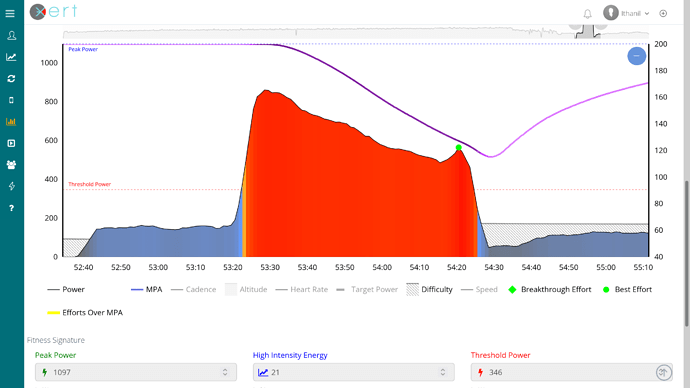 This slightly annoying downregulation of my HIE from 30-60 second efforts is nothing new to me and usually I push it back up a bit, because otherwise it is just too low to model my power over slightly longer durations correctly.
So far so "good", but when I now look at the power-duration curve, it predicts only 625W 1 minute power, even with the manually increased HIE value. (can't upload a second screenshot…)
With the original HIE value it would be even lower, so in the end the predicted 1min power is almost 10% lower than what was done to achieve at the signature. PP and TP values should be sufficiently accurate (PP may be slightly high and TP slightly low currently, but not too far off).
So can someone explain what is going on here? Is it a known issue and will be improved? Because I know I see things like that since I started using Xert 18 months ago. With everything else I'm very happy…