Hi,
I've tried using Xert several times to monitor my fitness…
I wanted to try to analyze my past data to find out what it was that i needed to be better at in order to stay in the race. (besides a better head on my shoulders and NEVER getting on the front which i definitely did during this race.)
picture from my A race in 2019: the focus for the entire event was 5 minutes.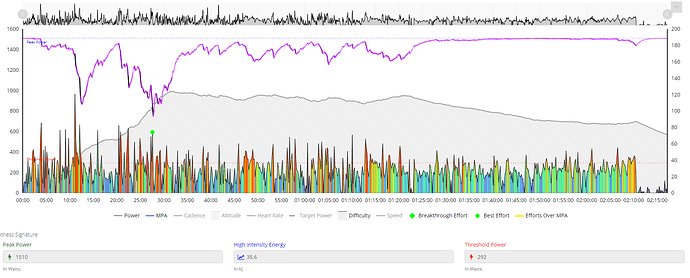 If you can't guess the moment i got dropped, it was right close to that point when my MPA finally goes back to a plateau.
I don't quite see which metric i needed to improve such that my MPA wouldn't constantly be less than 100% because I know that I simply ran out of energy from spending too much time in a partially MPA depleted state. I needed to be able to find enough "rest" to let my MPA get close to fully restored more often.
Apparently a higher HIE is what would allow my MPA to return to 100% more quickly during my short periods of time spent below TP.
My TL was 65 in 2019 at the time of this race. when i target this race again in 2021, I'm really not sure what metric to follow in Xert that might be saying that i'm going to do better next time in this race. If i have a TL of 110 in 2021, would this be the best indicator that i will end up having a better chance of being with the peloton at the finish line?