Hi Folks,
I thought I might take a chance to show some of my data as an example of how to take a recovery week.
I was off my bike for 10 days over the holiday season, so I've been getting back into the swing of training again. Over the past couple weeks, I've been successful in ramping up my training volume, seeing an increase of 13 W on my Threshold for 17 points of Training Load. This "month" of training culminated in a rather large (for me) trainer ride yesterday, which resulted in 338 XSS & driving me very deep into the red (form was -58 after the ride was uploaded):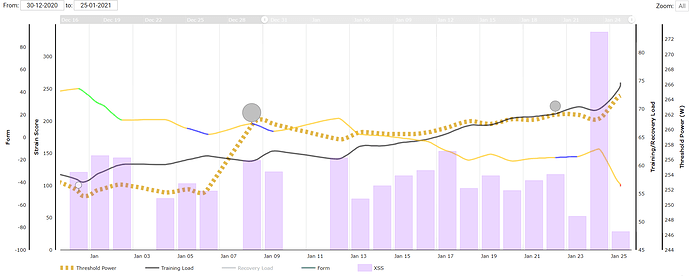 Note that as I as stack on the training, my form gets progressively worse - makes sense, as training more than you're used to is going to wear you down. This was especially the case over the last week, where I suspect I reached the edge of functional overreaching (ramp rate was +7.3).
So now that I'm so far into the red, how do I get out of this and back to my usual training?
First, I turned my improvement rate from Aggressive - 1 (+4 TL/week) all the way down to Maintenance (+0 TL/week). This does 2 things - extends my XSS surplus even further - offering me the opportunity for extra rest without falling behind on my training and 2, slowing down the XSS I'll need this week to keep the training pacer on track.
I did still felt like riding today, so I started this week with an easy "noodle" ride, < 1 hour of easy spinning ( difficulty).
For Tuesday, I'll be back to fresh status, so XATA might want me to do a little intensity. But knowing that I want to take a full week dedicated to recovery, I set the filters for < 1.5 difficulty and < 60 min duration.
On Wednesday, I lead the Zwift Xert Surplus Seekers Ride on Zwift, which is a 2.0-2.5 W/kg ride. The ride has a steady, endurance pace for me (LTP is 3.06 W/kg for me, so this is below LTP pace).
I will most likely re-assess how I feel on Wednesday evening/Thursday morning before I schedule my Th/Fri rides - maybe I'll edit the post later this week.
Regardless of my freshness, I'm still planning to get my LSD rides in over the weekend (1.5 - 2.0 hours; 90-120 XSS/ride), since they're performed generally at pretty mild intensities (75-95% LTP, sometimes a tiny bit higher).
After Sunday's ride, I'll likely move my Improvement Rate back to Aggressive - 1 and get back to work!
Hope this post is helpful for folks! Be sure to follow up with this thread if you have any further questions!