I was interested to understand more HIE, so I read some blogs about signature, many questions in forum but feels that it confused me even more and i am not sure how HIE works anymore.
I liked analogy with fuel tank, where difference between TP and PP is size of tank and MPA is like fuel gauge with HIE being fuel.
Sprinter with high PP would have big difference between PP and TP, which I undestood to be HIE. (PP-TP=HIE) But sprinters are known to have high PP, but fade out quickly and in contrast to climbers, who can go for long time with high power. Its how i understood HIE - capacity above threshold. But climber will have lower HIE than sprinter ??
And how is PD applied to that, if HIE is calculated as power above TP*seconds, or is there mathematical model, where is calculated HIE consumption rate at specific PD for each individual? I was thinking that maybe those short effort only are bounded to HIE and longer +5minutes are more depended on TP.
And because there is an inverse relationship between HIE and LTP, with higher HIE at same PP I will have a lower TP or LTP or both and vice versa.
And Scott (or others) can you explain why my PP went from 913 to 921 in signature, but I did not exceed it in wokout, is it because HIE went up and TP too so PP must go up too TP+HIE=PP? And my LTP stayed the same 166,should it go down?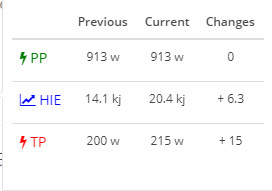 I might get it all wrong.