I 've been using Xert for a few weeks now, and my recommended workout today is a Hardness test level 12. There is no way I could ever do that. 160 XSS in an hour??? And I would have a BT if I manage to finish the warm-up! What is happening here?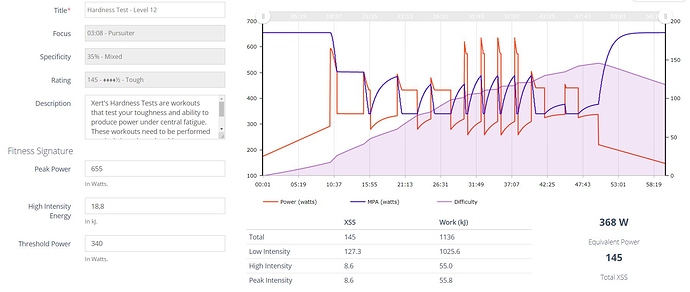 Some background: TP 340, HIE 18.8, PP 655, 3+ h power 301, LTP 293.
My fitness signature is (I think) not an average one, but I believe it is not too far off. I am a bit older (57) and I have been training for & doing unsupported ultra races for the last couple of years. My peak power is indeed ridiculously low, Training Peaks gives my FTP @ 324, so TP 340 in Xert might be too high, and bringing up my LT has been my training focus for the last 5 years.
Thanx for a bit of clarification!