I'm a daily cycle commuter. It's not a long commute (7 miles/11km each way). I don't have a power meter on my hybrid, but the heart-rate-derived XSS each way various between around 22 and 30 XSS. So typically 50 XSS each weekday just in commuting.
I'm assuming that accumulated XSS over the day has a similar impact to a single activity.
Looking at my chart for the past two weeks, where I've summed the XSS across the activities in a day: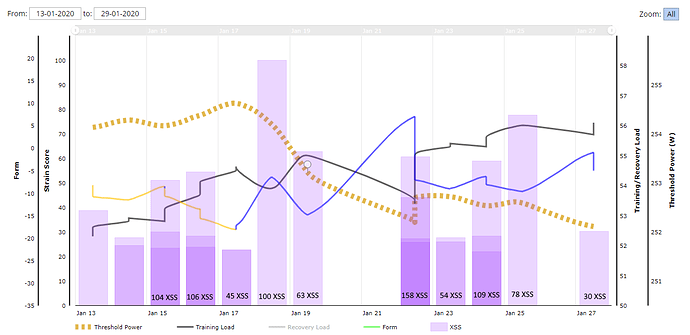 The 100XSS on Jan 18th was a 1h 35m Zwift workout, and the 63 XSS on the Sunday was a short (20km) Zwift race where I got a near breakthrough.Both days lower than the days where I've commuted and done a bit of Zwift.
Those were followed by two days sick, but the chart seems to say my TP was dropping even without the days off. Indeed, apparently it was dropping when I got the near breakthrough.
Am I right in thinking that because I do an hour every day just riding to and from work, these Zwift rides at the weekend really do nothing much to improve my fitness? And unless I can dedicate 2 hours or more each day to a workout, I'd be better off doing much more intense shorter stuff?